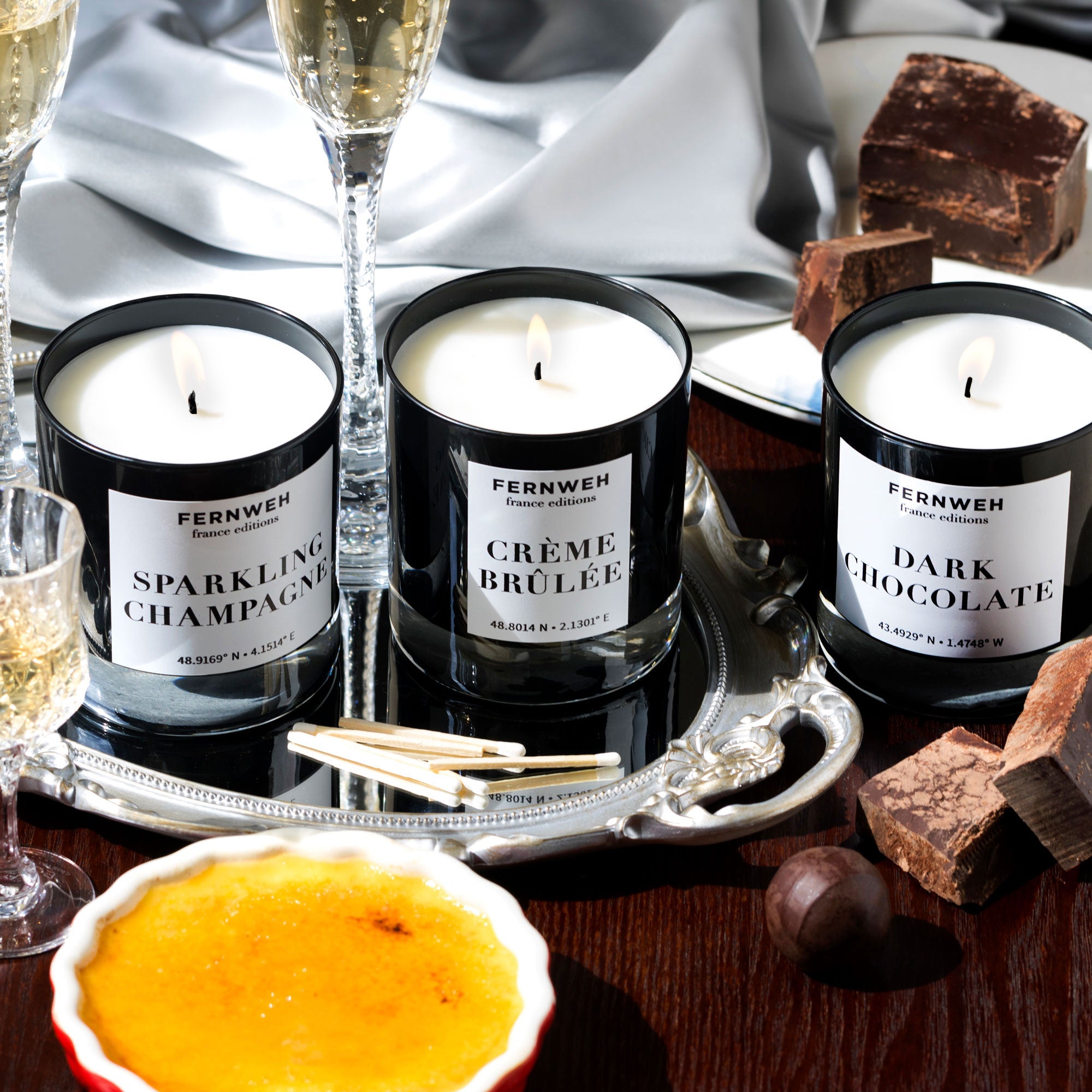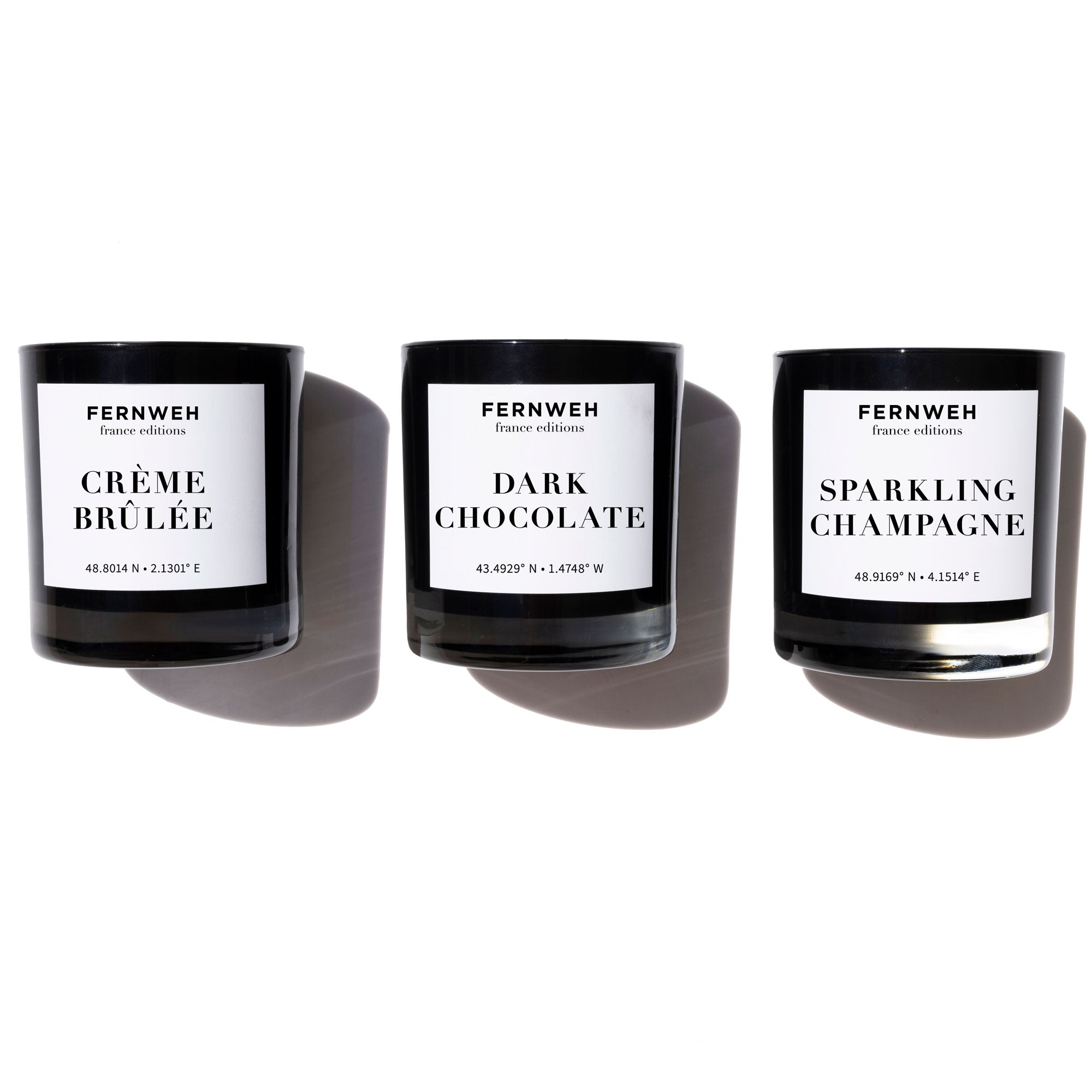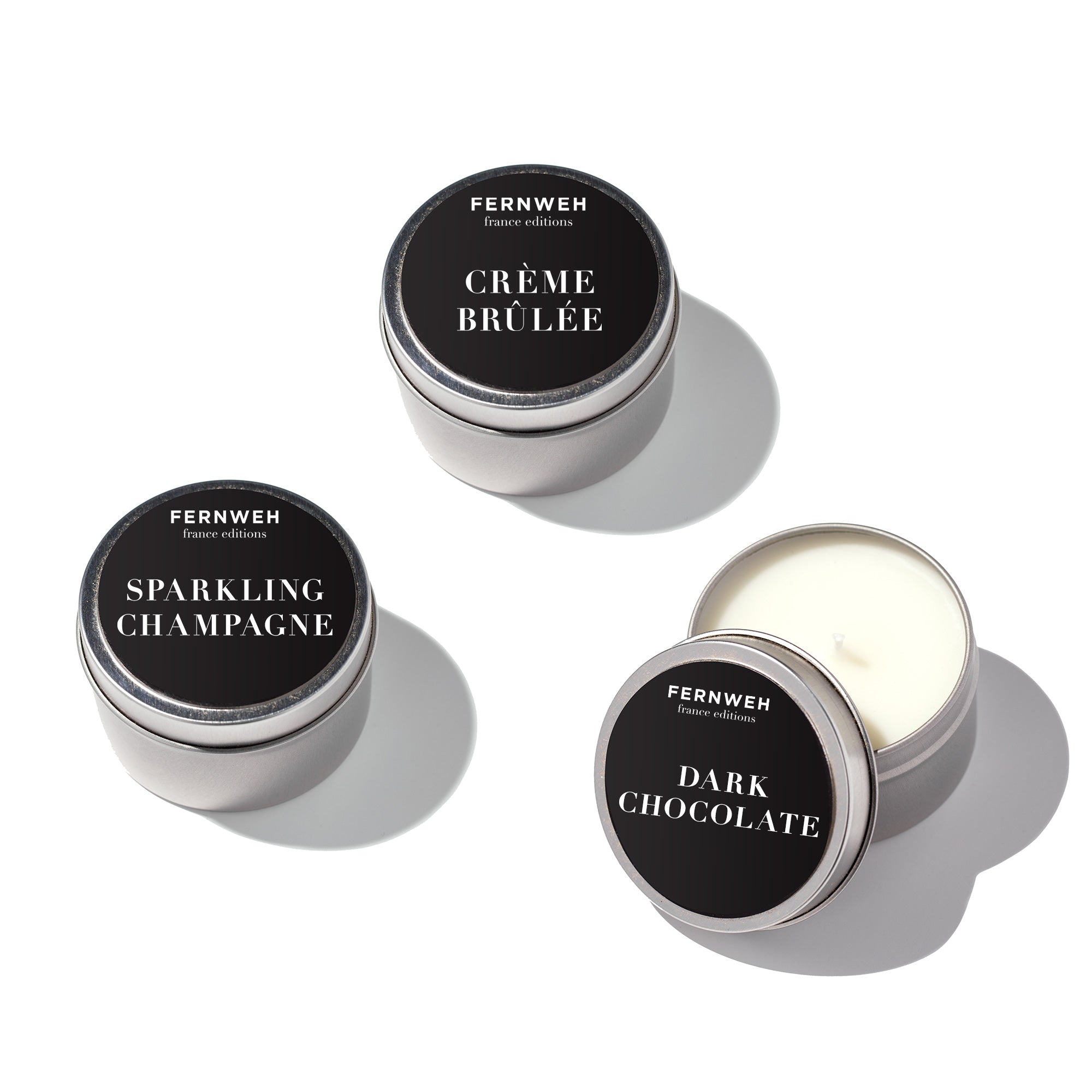 France: Celebrate French Cuisine Candle Gift Set
$95.00
Regular price
$135.00
Subscription • Save
France Editions: Candle Gift Set
Indulge in decadent scented candles inspired by the culinary traditions of France. Includes: Sparkling Champagne, Creme Brûlée, and Dark Chocolate
Sparkling Champagne
A celebratory sip of pure joy and crisp, fruity effervescence. 
| | | |
| --- | --- | --- |
| | | |
| Muguet | Apricot | Black Currant  |
Dark Chocolate
The smell of gourmet heaven — the unmistakable bold, rich aroma of French gourmet dark chocolate.
| | | |
| --- | --- | --- |
| | | |
| | Dark Chocolate |   |
Crème Brûlée
Classic creamy caramel and vanilla with just hint of chocolate.
| | | |
| --- | --- | --- |
| | | |
| Vanilla | Cream | Caramelized Sugar |
About Our Scented Candles
Travel Tin 6oz
2.75" wide x 1.75" tall
~ 60 hours burn
Classic Glass 11oz
3.25" wide x 3.5" tall
~ 110 hours burn
| | |
| --- | --- |
| | Hand-poured in the USA in small batches by experienced candlemakers. |
| | Soy wax blend for a cleaner, healthier, and more sustainable burn. |
| | Premium scents for aroma nuance and complexity. |
| | Self-trimming wicks for increased burn time and less soot. |
| | No synthetic dyes, parabens, phthalates, sulfates, or toxic chemicals. EVER. |
It was a gift. She loved it when she opened it. I'm assuming she liked it. She loved the
cream brûlée smell.
Amazing Chocolate!
It smells like delicious, deep rich, dark chocolate! I love it!
Everyone who has entered my house when I am burning it says how wonderful it smells!
Transported back to France
My travels in France are some of the most magical memories I have and the Sparkling Champagne candle makes me feel like I am back under the Eiffel Tower with bubbly in hand. I absolutely love the scent and how clean these candles burn - no weird after burn scent like some other brands I have tried. I would recommend these to anyone who wants to escape to a new or familiar faraway place and experience wanderlust through scent.
Transported to deliciousness!
I generally love dessert-y type scented candles, so I was really excited to try this one! The scent is so rich and decadent, it truly lives up to its name. It creates a melt-in-your-mouth aroma. I love the scent and I highly recommend this candle!!!
The Fernweh Dark Chocolate Candle smells, as you'd imagine, delicious!
I can't eat chocolate due to the caffeine, and this is the best alternative yet! I light it when reading in bed each night and fall asleep with a smile on my face...and even sweeter dreams.
NICE THINGS PEOPLE ARE SAYING
"Nothing against over-the-top, super-festive mall candles, but these candles look sophisticated and are inspired by real places, so you can give them to any one who feels homesick."
"Best Winter Candle Fernweh Winter Pines — this beautiful candle heralds the first snow of the season through a warm blend of pine with top notes of mint, citrus, nutmeg, cinnamon, and clove, mid notes of lavender and eucalyptus, and base notes of pine and vanilla."
"Ferns & Petals captures the invigorating sensation of a spring morning hike through Pacific Northwest's Cascade Range, when the ferns are glistening with dew and florals are just beginning to bloom. In addition: no detail was spared, from the hand-poured wax to the self-trimming cotton wicks."
"Each candle in this collection is scented to remind you of a treasured journey, whether, say, to France, the Pacific islands or the Cascadian mountains. Hand poured in small batches, these soy wax candles burn clean, with reduced soot, and have self-trimming wicks for increased burn time."
"These soy-wax candles capture the landscapes of beautiful natural spaces with their delightful and fresh scents. Plus, the soy wax blend offers a cleaner, healthier and more sustainable burn."
"Este set de velas son el toque perfecto para aquellas personas que aman la aventura al aire libre."
"Take a trip to the Pacific Northwest without leaving the comfort of your home, with these natural soy wax candles scented like the cool Pacific fog with scents of pine, cardamom, fir trees, ferns, and orange blossom."
Poured by Hand
Hand-poured in the USA in small batches with premium scents for nuance and complexity.
Sustainable
Soy coconut wax blend for a cleaner, healthier, and more sustainable burn.
Toxin-Free
No synthetic dyes, parabens, phthalates, sulfates, or toxic chemicals. EVER.
Join Us on Instagram
And don't forget to tag us! We love seeing our candles' adventures in the wild.
Follow Us