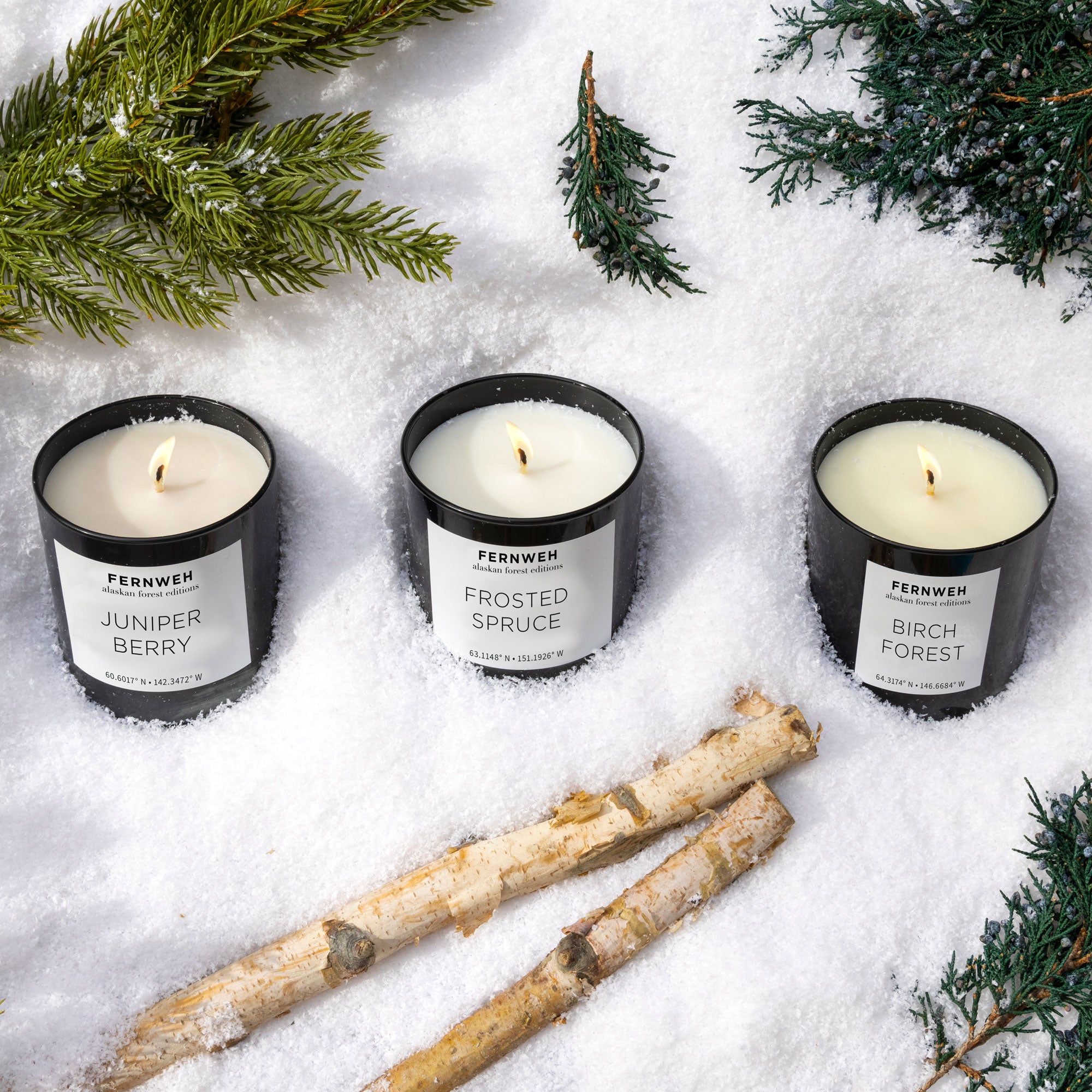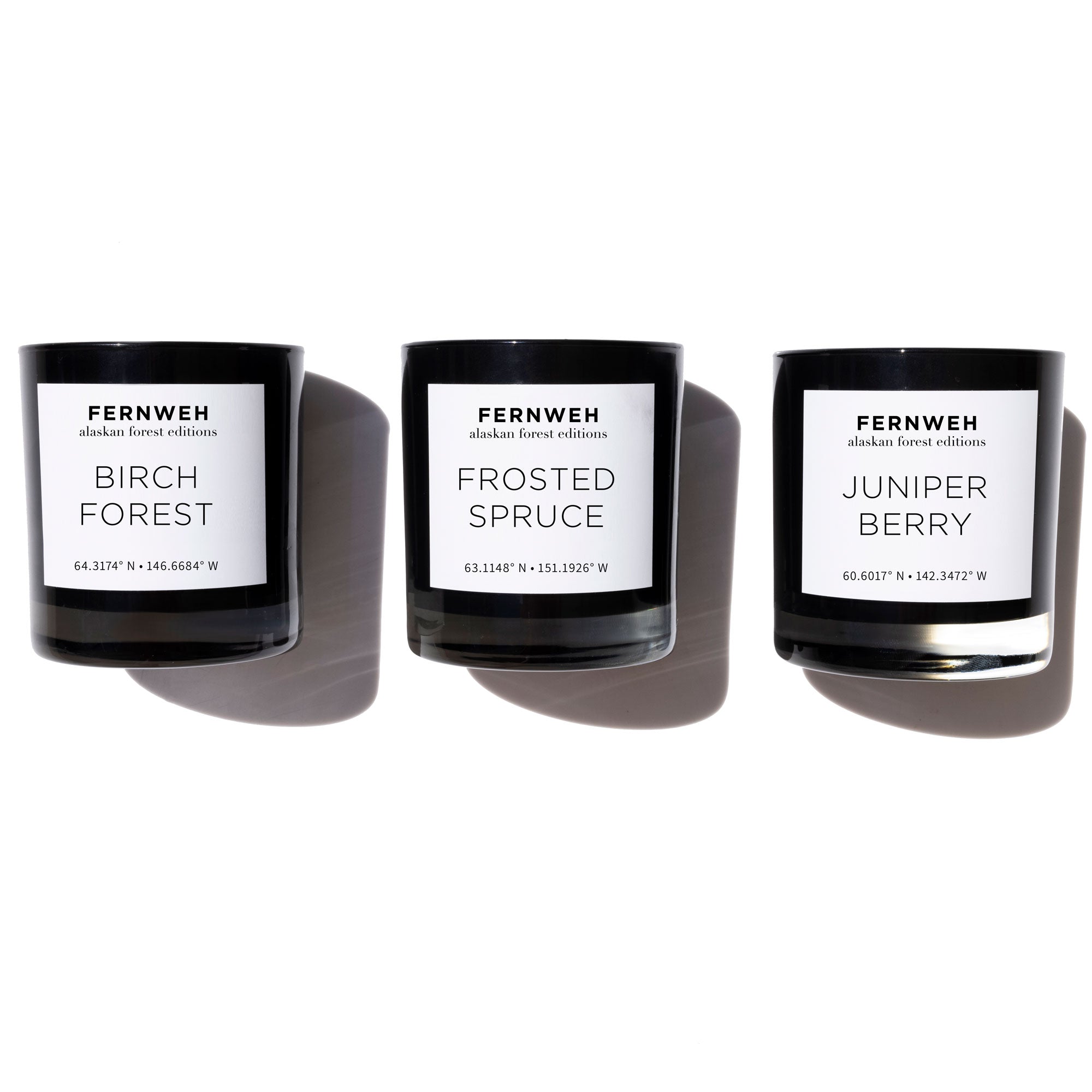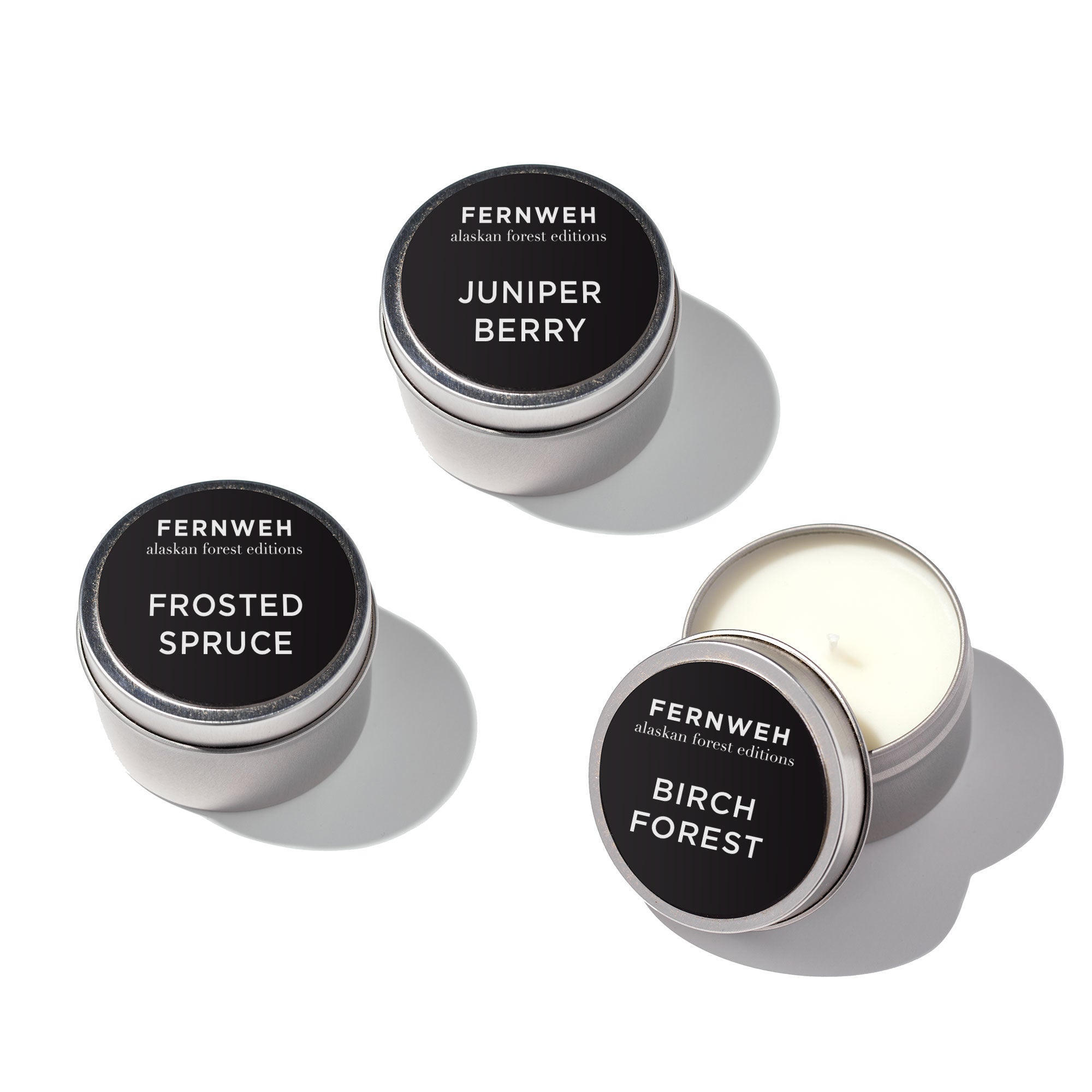 Alaskan Forest Edition: Walk in the Woods Candle Gift Set
$95.00
Regular price
$135.00
Subscription • Save
BACK IN STOCK!
Alaskan Forest Editions Candle Gift Set
Alaskan Forest Editions candles make perfect gifts for adventurous nature lovers. They're made with natural soy wax and scents inspired by three fragrant plants that grow in the region. Gift sets come with three candles and include: Frosted Spruce, Birch Forest, and Juniper Berry.

 

The Scent of Birch Forest
Birch Forest is a sophisticated alternative to typical pine scents. Bright notes of eucalyptus, cypress, and tonka bean create a unique aromatic crispness. Perfect as a luxurious year-round scent.
Top: Eucalyptus, Mint
Middle: Cypress, Pine
Base: Tonka Bean, Smoke
The Scent of Frosted Spruce
Ready for a snowy hike in the woods? This classic scent is perfect for adventurous nature lovers and anyone looking for a holiday-friendly scent. It's a timeless scent with an added touch of crisp character and freshness that captures the chill in the air.
Top: Mint & Eucalyptus
Middle: Spruce, Moss & Evergreen
Base: Amber, Cedar, & Cypress
The Scent of Juniper Berry
Juniper Berry is a balance of cool evergreen and berry notes. It's a complex wintery scent that feels warm and festive. Cool scents of ozone, camphor, and citrus are the top notes which deepen into pine and red currant on top of a base of juniper and sage.
Top: Ozone, Camphor, Citrus
Middle: Pine, Red Currant, Berry, Pear, Cherry Blossom
Base: Juniper, Sage
About Our Scented Candles
Travel Tin 6oz
2.75" wide x 1.75" tall
~ 60 hours burn
Classic Glass 11oz
3.25" wide x 3.5" tall
~ 110 hours burn
| | |
| --- | --- |
| | Hand-poured in the USA in small batches by experienced candlemakers. |
| | Soy wax blend for a cleaner, healthier, and more sustainable burn. |
| | Premium scents for aroma nuance and complexity. |
| | Self-trimming wicks for increased burn time and less soot. |
| | No synthetic dyes, parabens, phthalates, sulfates, or toxic chemicals. EVER. |
NICE THINGS PEOPLE ARE SAYING
"Nothing against over-the-top, super-festive mall candles, but these candles look sophisticated and are inspired by real places, so you can give them to any one who feels homesick."
"Best Winter Candle Fernweh Winter Pines — this beautiful candle heralds the first snow of the season through a warm blend of pine with top notes of mint, citrus, nutmeg, cinnamon, and clove, mid notes of lavender and eucalyptus, and base notes of pine and vanilla."
"Ferns & Petals captures the invigorating sensation of a spring morning hike through Pacific Northwest's Cascade Range, when the ferns are glistening with dew and florals are just beginning to bloom. In addition: no detail was spared, from the hand-poured wax to the self-trimming cotton wicks."
"Each candle in this collection is scented to remind you of a treasured journey, whether, say, to France, the Pacific islands or the Cascadian mountains. Hand poured in small batches, these soy wax candles burn clean, with reduced soot, and have self-trimming wicks for increased burn time."
"These soy-wax candles capture the landscapes of beautiful natural spaces with their delightful and fresh scents. Plus, the soy wax blend offers a cleaner, healthier and more sustainable burn."
"Este set de velas son el toque perfecto para aquellas personas que aman la aventura al aire libre."
"Take a trip to the Pacific Northwest without leaving the comfort of your home, with these natural soy wax candles scented like the cool Pacific fog with scents of pine, cardamom, fir trees, ferns, and orange blossom."
Poured by Hand
Hand-poured in the USA in small batches with premium scents for nuance and complexity.
Sustainable
Soy coconut wax blend for a cleaner, healthier, and more sustainable burn.
Toxin-Free
No synthetic dyes, parabens, phthalates, sulfates, or toxic chemicals. EVER.
Join Us on Instagram
And don't forget to tag us! We love seeing our candles' adventures in the wild.
Follow Us